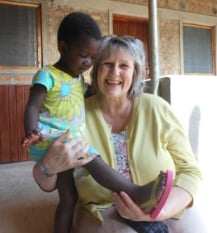 Welcome to Our World
Following her years of experience visiting some of the poorest countries around the world, Georgina Varney (left) has created and developed a variety of global workshops to encourage children to explore the realities of daily life for many in our world.
These interactive workshops allow the children to take part in a variety of activities that encourage them to see themselves as 'global citizens' with a responsibility to others around the world.

♦ Quote from NATIONAL CURRICULUM IN ENGLAND
Purpose of study: A high-quality geography education should inspire in pupils a curiosity and fascination about the world and its people that will remain with them for therest of their lives. Teaching should equip pupils with knowledge about diverse places, people, resources and natural and human environments, together with a deeper understanding of the Earth's key physical and human processes.
WORKSHOPS FOR SPRING
Get to know the Country hosting
the 2016 Olympic Games
Brazil is the fifth largest country in the world, 35 times the size of the UK. A visual tour of this diverse country takes us to the Amazon to discover some of the amazing wildlife. We visit many tourist areas including Sugar Loaf Mountain, Sao Paulo and Brasilia, and we also visit the carnival. During the session we learn about the natural resources of the country and what it exports, but we also discover life in a 'Favela,' a township outside one of the largest cities.
What difference will the Olympics make to the people living in Brazil? This workshop is full of interesting facts, and Georgina has first-hand knowledge about the country having worked with a team in a 'Favela' on the outskirts of Belo Horizonte. Children who live in this part of Brazil enjoy making kites out of plastic bags found lying around. Students will be able to do the same and make a small kite to keep. They will also have the opportunity to complete a worksheet.
NE
W FOR 2016

- Where does chocolate come from?
- How does it grow?
- Where does it grow?
- How many cocoa beans does it take to
make eight bars of milk chocolate?
- How many bars do we eat in a lifetime?
All of these questions and more are covered in our new workshop for 2016. It touches on the history of Chocolate with a particular focus on Fairtrade farmers.
During the session the children are able to take a close look at pods, beans, and taste-test Fairtrade dark and milk chocolate.
There will be a variety of specialised chocolate available for those children who suffer from allergies.
A worksheet accompanies the workshop to record facts and information.
NEW FOR 2016 ◊ NEW FOR 2016 ◊ NEW FOR 2016 ◊ NEW FOR 2016 ◊ NEW FOR 2016

Workshops
We are pleased to offer two new ways of accessing our workshops for schools that we hope will be of help.
We can offer half-day of workshops

Pick a mix your chosen workshops so that two different subjects can be running on the same day or half day.
We hope these two options will give flexibility to teachers and an opportunity to offer our 'Global' workshops to a year group or class of children.
---
If you would like further details about any of our workshops please do contact usto find out more, or visit our Workshops page here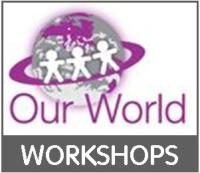 Find out more about these workshops by clicking right or on the Workshops tab at the top of this page.