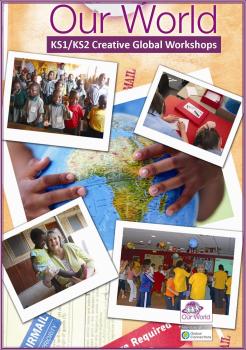 Our World KS1/KS2 Creative Global Workshops
Click on the image, left, to view the full range of Workshops available
Georgina provides a range of original resources for each session to enhance the pupils' understanding and engagement in the workshop activities; these will be resourced for up to thirty five children at a time.
The activities in the session have all been devised from personal experience to develop the children's depth of knowledge about the third world in an exciting and educational manner that will support their development of vital skills across the curriculum.
If you are interested in booking any of our workshops, or would like further information, please contact 'Our World' on 07969 181839/01384 882960 or Contact us here
Georgina also works for two days a week at a primary school in Sandwell. If you would like a reference please contact: Mrs J Stackhouse, Head Teacher, St Margaret's C E Primary School, Great Barr, Birmingham on 0121 357 2758 who will be very happy to help.