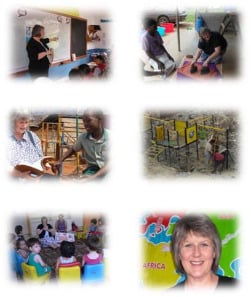 Georgina has been working with children since she was a teenager when she started to help run children's activities at her local church. Since those early days she has continued to work with children and young people in a variety of situations and is working in a primary school in Sandwell alongside her work with the 'Our World' project.
Georgina comments, "I was interested in the world from an early age when a missionary who worked in Africa came to visit our church. He brought with him a dead insect in a glass jar and I am sure that captured my interest in other countries. It was also exciting to realise that people were trying to help people in need. It was many years later when I went on my first trip outside of Europe and worked on a project in the Dominican Republic building a school classroom.
It was following that trip that I joined 'Soapbox' and led many teams to countries such as to: India, Philippines, Brazil, Bolivia, Ecuador, Nepal and Romania. Since then I have been privileged to visit projects in Peru and have developed links with two initiatives in Uganda, 'Hosanna Primary School' in Kampala, and 'New Hope Uganda', in the Luwereo District. My work overseas has given me the privilege of leading teams of people to help make a difference by building school classrooms, medical rooms, church buildings, children's homes and to run activities for the children in these communities. I feel it is very important to enable children to gain a greater understanding of the world they are part of and help them to see that they can make a difference to the lives of others.
In 2004 I moved to the West Midlands to take on the role of 'Project Manager' for 'Flame Trust'. I have been working in schools and churches raising the profile of global issues and sending toys and educational resources to countries such as South Africa and Egypt. Prior to this role I was Pastoral Assistant at Godalming Baptist Church in Surrey with responsibilities that included taking assemblies at eight local schools, working with children from reception through to Key Stage 3 and I was also a Chaplain at the local 6th Form College.
This is a very exciting stage of my working life and I hold firm to my belief `that children should be encouraged) to see the bigger picture!"